PATRIZIA LOMBARDI
Full Professor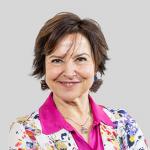 Roles
Deputy Rector
Member (Board of Governors)
Componente (Commissione Istruttoria di Indirizzo Strategico per la Didattica)
Member (Academic Senate)
Coordinator Green Team

Scientific branch
ICAR/22 - ESTIMO
(Area 0008 - Ingegneria civile e Architettura)
Publications
PORTO@IRIS - Publications Open Repository TOrino
Curriculum
Curriculum file (179 KB)
Expand text

Patrizia Lombardi (PhD, MSc, BA/MA) is Full Professor of Sustainable Urban Planning Evaluation and Project Appraisal of Politecnico di Torino and Deputy Rector of the Politecnico di Torino. She is Scientific Coordinator of the Green Team for Sustainable Path of Politecnico di Torino since 2015 and co-chair of the UNESCO Master "World Heritage and Cultural Projects for Development" managed by ITC-ILO since 2010. She has been Head of the Interuniversity Department of Regional and Urban Studies and Planning (DIST) from 2012 to 2018. She is an established figure in the field of evaluating smart and sustainable urban development for over 20 years, publishing widely in the subject area and coordinating, or serving as lead partner, in several Pan-European Projects related to Smart Cities, Post carbon society and Cultural heritage, including: SCORE, H2020 (2018-20); SHAPE-ENERGY, H2020 project LCE32; URBE - Understanding the relations between URban form and energy consumption through BEhavioral patterns, with Senseable City Lab MIT, SIEBEL Institute (coordinator); POLITOWARD, Toward sustainable university campus, with University of Cambridge (coordinator); VII FR: MILESECURE-2050 - Multidimensional Impact of the Low-carbon European Strategy on Energy Security, and Socio-Economic Dimension up to 2050 perspective (January 2013 December 2015) (coordinator); VII FR: POCACITO - Post-carbon cities in Europe: A long-term outlook (January 2014 December 2016); VII FR: DIMMER - District Information Modeling and Management for Energy Reduction - ICT Smartcities 2013 - FP7-SMARTCITIES-2013 - Small or medium-scale focused research project (STREP) (October 2013 September 2016); EIT European Institute of Innovation and Technology. KIC InnoEnergy/ EIT ICT Lab. Action Line for Proposed Activity: SES Smart Energy Systems. Action Line Leader: Sutor A. | Siemens | Siemens AG (January 2014 - December 2014); VII FR: UNI-metrics, Value metrics and policies for a Sustainable University campus, Marie Curie project (January 2012-December 2013) (coordinator); UNI-metrics, Value Metrics and Policies for a Sustainable University Campus, Marie Curie project, coordinatore (2012-2013); Studio degli indicatori di valutazione delle Smart Cities, per conto della University Napier di Edinburgh (UK), SmartCities Network Interreg North C (2010-2011); VII Programma Quadro: PERFECTION - Performance indicators for health, comfort and safety of the indoor environment (N. FP7-ENV-2007-1- 212998), per conto dellIstituto superiore SiTI del Politecnico di Torino; Interreg III C: S.U.R.Pr.I.S.E. - Sustainable Urban Renewal Programs In Southern Europe, in collaborazione con Dipartimento Interateneo Territorio, Nov 2006 Ott 2007; Ricerca in collaborazione italo-britannica: Sustainable Urban Regeneration, British Council MURST/C.R.U.I, Politecnico di Torino e Univeristy of Salford, biennio, 1996-97 (coordinatore del gruppo di ricerca); VI Programma Quadro: Progetto ISAAC - Integrated e-Services for Advanced Access to Heritage in Cultural Tourist Destinations - N: IST.035130; VI Programma Quadro: Progetto Integrato Intelligent Cities - INTELCITIES - N: IST.2002-507860; V Programma Quadro: Roadmap INTELCITY - N: IST-2001-37373; IV Programma Quadro: Network BEQUEST - Building environmental quality evaluation for sustainability through time - N: ENV 4 CT/97-607, 1994-1998 (responsabile per lo Iuav di Venezia). At national level, she is responsible for the education project of the Cluster EEB project - Zero Carbon Urban District in partnership with Telecom Italia, STMicroelectronics, Selex Elsag, Finmeccanica Group Real Estate, Enel Distribuzione S.p.A., Enel Ingegneria e Ricerca S.p.A.. Programme Smart Cities & Communities launched by the Ministry of Scientific Research to promote the Innovation and Research at the National level (01/05/2013 36 months). She has been invited KEY NOTE in a number of international conferences and CHAIR of a number of INTERNATIONAL SCIENTIFIC COMMITTEE and INTERNATIONAL SUMMER SCHOOLS. She received SPECIAL PRIZE AND AWARDS in 2018 ANVUR-MIUR Excellent Department, with an expectation of 8M in the next four years (2018-2022); 2016 SIEBEL Institute at Washington, February 2017; 2016 EMERALD Literati Network Awards for Excellence; 2014 SET Plan Conference " poster MILESECURE-2050; 2012 award received by the Alumni of Salford University of the Great Manchester (UK) for her achievements; 2010 paper awarded by the CSAAR - Center for the Study of Architecture in Arab Region (JOR); 2009 paper awarded on "Intangibles enhancing access to cities cultural heritage through interpretation" has better interpreted the spirit of the conference; 1997 -Premio G.Grittani from the Centro Studi di Estimo ed Economia Territoriale (CeSET) di Firenze. She is member of the EDITORIAL BOARDS: - Engineering, Construction and Architectural Management Journal (ECAM) - Intelligent Building International Journal (Earthscan) - Smart and Sustainable Built Environment (Emerald) - Valori e valutazioni, rivista del SIEV (www.siev.org) - Collana Ambiente, Valutazioni, Sostenibilit, Celid, Torino. Additional MANAGEMENT TASKS include: - Member of the Administrative Committee of the Scuola di Studi Superiore Ferdinando Rossi, Universit di Torino until 2017 - Member of the Scientific Board of CSI-Consortium for Information Systems of the Piemonte Region until March 2018; - Member of the Administrative Committee of SITI Research Center (until 2018) - Member of the Comitati Territoriali, IREN spa until 2018 - Rector's delegate for EIT ICT Labs Trento (Italy) until 2015 - Rector's delegate for Polito of the Rete atenei sostenibili, RUS, Italian Sustainable Campuses (on going) - SMILE (Smart Mobility, Inclusion, Life & Health, Energy). She was coordinator for the table about Inclusion (2011-2013) - Past Visiting Professor all'IMI - Institute for Advanced Studies, Lucca, Italy - Vice-Presidente di Alumni Association of the Politecnico di Torino; - Sous-sherpa Unit of the G8 University Summit, Declaration on Education for a Suatainable and Resposible Development, Turin Declaration in 2009 and member of the G8 University Council - Member of the Dipartimento Casa-Citta' Committee Board, Politecnico di Torino in 2007-2009. - Member of the Task Group of the Strategic Plan, Politecnico di Torino in 2005 and 2015.