ANDREA AJMAR
Assistant Professor with time contract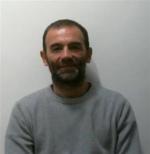 Scientific branch
ICAR/06 - TOPOGRAFIA E CARTOGRAFIA
(Area 0008 - Ingegneria civile e Architettura)
Publications
PORTO@IRIS - Publications Open Repository TOrino
Curriculum
Curriculum file (335 KB)
Expand text

Andrea Ajmar has a master degree in Geology (Universit? di Milano, 1994) and holds a Ph.D. in Environmental Engineering (Politecnico di Torino, 2010), making his first research experiences in evaluating climate change effects on Alpine glaciers. He has more than 30 years of experience in analyzing environmental phenomena, with all the support provided by Geographic Information Systems: from geostatistical approaches for soil classification, to global soil cartography and databases, to flood risk reduction analysis and modelling, to interferometric DEM derivation, to geodatabases and SDIs development. Dr. Ajmar has a relevant experience as project manager in several cooperation and research projects. He has been deployed in the field to support WFP operations in Haiti for the 2010 earthquake damage assessment. He provided training on GIS and Remote Sensing techniques for WFP officers, NGO?s and local authorities in developed and developing countries (Egypt, Malawi, Myanmar, Russia, Uganda).