CRISTINA CUNEO
Associate Professor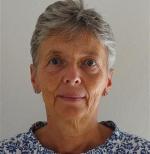 Roles
Componente supplente (Comitato Unico di Garanzia)
Member (Comitato paritetico per la didattica)

Scientific branch
ICAR/18 - STORIA DELL'ARCHITETTURA
(Area 0008 - Ingegneria civile e Architettura)
Publications
PORTO@IRIS - Publications Open Repository TOrino
Curriculum
Curriculum file (160 KB)
Expand text

Cristina Cuneo (1964) architect, is a university researcher (History of architecture) of Politecnico of Turin, Faculty of Architecture II. She graduated in Architecture from the Politecnico of Turin in 1990 with a thesis on Architectural History. In the same university she got a P.H.d in "History of the environmental and architectural history heritage" (1994). Now she works in Architecture & Design departement of Politecnico of Turin and carries out teaching activities and research. She teaches history of architecture in modern age. Cristina Cuneo's research focuses on the architecture of 16th and 17th century.