CRISTINA CUNEO
Associate Professor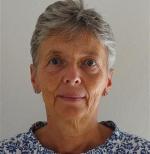 Roles
Componente supplente (Comitato Unico di Garanzia)
Member (Comitato paritetico per la didattica)

Scientific branch
ICAR/18 - STORIA DELL'ARCHITETTURA
(Area 0008 - Ingegneria civile e Architettura)
Publications
PORTO@IRIS - Publications Open Repository TOrino
Curriculum
Expand text

Architetta, professoressa associata di storia dell'architettura, presso il Politecnico di Torino, Dipartimento di Scienze Progetto Politiche per il Territorio.
Insegna Storia dell'architettura e della città e Storia dell'architettura Moderna presso il Collegio di Architettura.
Gli studi di storia dell'architettura e storia della città in età moderna orientano la ricerca scientifica con particolare riferimento ai temi dell'organizzazione della corte, del cantiere in Piemonte tra Cinquecento e Settecento, con le professioni impegnate e le tecniche utilizzate; città e architetture dalle spiccate valenze urbane sono analizzate secondo le matrici architettoniche di riferimento, nei confronti con i contesti culturali, religiosi, sociali, economici e istituzionali. Parallelamente, a ulteriore approfondimento di tali tematiche, la committenza è affrontata come chiave di lettura imprescindibile in complesse strategie architettoniche e urbane. Architect, is Associate professor in History of architecture of Politecnico di Torino. She graduated in Architecture from the Politecnico di Torino in 1990 with a thesis on Architectural History. In the same university she got a Ph.D in "History of the environmental and architectural history heritage" (1994). Now she works in Interuniversity Department of Regional and Urban Studies and Planning (DIST) and carries out teaching activities and research. She teaches History of Architecture in Early Modern Age and History of Cities and Territory. Her research focuses on the architecture and urban history of 16th and 17th century. Since degree she has been involved in national and international research programs.